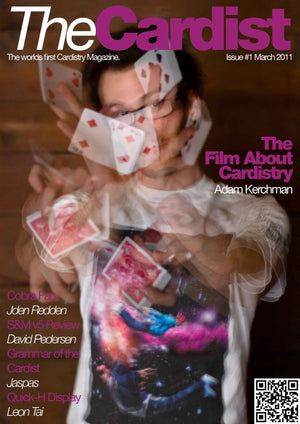 The Cardist Magazine | The Lore
Biz brings out of The Lore the forgotten issues of "The Cardist", a digital magazine that ran for 3 issues back in 2011. It was self dubbed "the world's first cardistry magazine" (which was true) and tried to do something that someone has still to attempt - make an official cardistry magazine. 
Cardists from all around the world contributed to "The Cardist"; from Adam Kerchman to Jaspas, Michael Herp, Ling Nemesis, Chris Hestnes and Biz. Sadly, the magazine was shut down after 3 issues due to financial reasons.
Inside of this free download you can find all 3 issues of "The Cardist". Each issue still has embedded inside the pdf file videos showcasing different trailers and tutorials (most of these tutorials you won't be able to find anywhere else).
If you like cardistry and cardistry history, then you're going to be happy to be able to flick through these 11 years after they have been published.
Creator: Jden Redden
Issue 1
The Film About Cardistry by Adam Kerchman
Cobra Fan by Jden Redden
S&M v5 Review by David Pedersen
Grammar of the Cardist by Jaspas
Quick-H Display by Leon Tai
Issue 2
Chris Hestnes - The Interview
The Review
The Tutorial (a top card flourishy switch that kills)
The Reflection
The Production
Armonia by Miquel Roman (double lift, cut, 4 card production)
Issue 3
Dynamite (Tobias, Dennis, Nikolaj, Oliver) - Interview by Biz
Michael Herp Interview - Josh Simpson
Cardistry in Singapore by Ling Nemesis
The Question? by Jden Redden
TriAerial by Mikk Pärg