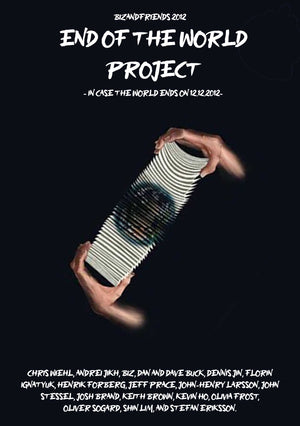 E-Book
Released: 12.12.2012
Cover Design: Bizau Adrian Danut
Featuring: Chris Wiehl, Andrei Jikh, Biz, Dan and Dave Buck, Dennis Jin, Florin Ignatyuk, Henrik Forberg, Jeff Prace, John-Henry Larsson, John Stessel, Josh Brand, Keith Brown, Kevin Ho, Olivia Frost, Oliver Søgård, Shin Lim, and Stefan Eriksson.

With the supposed end of the world, we, a small group of magicians and flourishers, have decided to entertain you, the community, with some magic before everything might turn into a TV Survival Show, or before we all just die." 

This project is a collaboration between some top magicians from all over the world in anticipation of the supposed "End of the world".