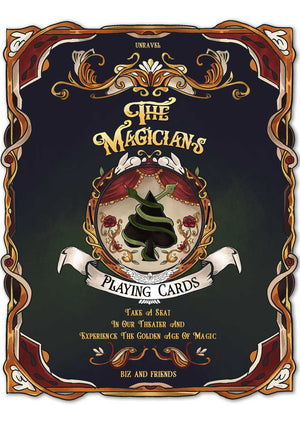 The Magicians Magnetic Box
LIMITED RUN OF 300 PRINTED
View Video of Magnetic Box
Note: The pictures are from the factory. They don't do the box JUSTICE. It will look much more gorgeous when you get it!
Automatic Discounts: If you order 3, 6, 12 or 24, you will get an automatic discount on your order :)
Pair your Magicians Playing Cards with this gorgeous magnetic box in which you can fit your deck of cards and instruction booklet. They're a beautiful collectible box which will look amazing on display in your collection. It's the perfect gift to give yourself on a Friday evening.
The inside of the box contains the name of ALL BACKERS which have helped make this project a reality!
The front of the box features an elegant design with gold and sapphire colors, staying in tune with the vibe of the Golden Age of Magic.
The back of the box features a front snapshot of a magician's table filled with magic props and tools many of us would find in our repertoire.
These magnetic boxes have been manufactured by the famous Riffle Shuffle Company, who are known worldwide for their top-tier quality and attention to detail. 
As a continuation to our Cardistry Game deck (which comes with a magnetic box), we felt it would look much better if you would have a slick magnetic box for your Magicians deck as well. As such, we have decided to go ahead and print a very limited run of these (in all honesty, Biz was just too happy with Herdiant's design and wanted to have the physical product himself- so we ended up printing them, but shhhhh).
Enjoy!
(and buy many)
Great display box
This display box perfectly matches the deck!
Awesome product
Great boxes to hold my decks and to display them.
All together now!!
Feels like the full vision of the product is complete and all together now. Both decks look great in these boxes. The gilded deck is amazing. Also, nice touch putting the pledge names inside the box as well as tuck. Great project and product!!
Beautifully done—and packed well too!
Like a lot of us Kickstarter backers, I forgot to use my discount code when I ordered 3 of these boxes for the trio of decks in my pledge. You know what? They're so nice; I don't even mind paying more than I needed to for them. All my boxes arrived in perfect condition due to careful and professional packing, too.
Magicians Magnetic Box
Gorgeous! After getting one, I ordered two more for friends, for whom I had extra decks. Also, superb customer service from Biz and Friends.