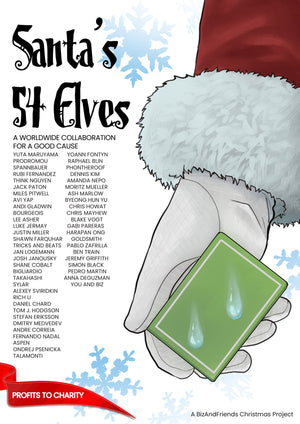 Santa's 54 Elves | LIMITED Edition Book
Update: We have successfully donated together $1400 to the organization !
All profits donated to water.org , an organization whose mission is to bring accessible and sanitized water to third world countries. 

A worldwide collaboration for a good cause. 54 magicians come together in this Christmas Project in order to create something magical and unique, while also helping those who are less fortunate than us.

Luke Jermay, Shawn Farquhar, Justin Miller, Harapan Ong, Simon Black, Jeremy Griffith, Raphael Blin, Jack Paton and many many many more.
From fruit magic to tarot, essays and playing cards. A book great for both beginners and advanced magicians jam-packed with ideas, sleights, routines and philosophies.
Paperback Book. 
89 pages.
NOTE: You get the e-book together with your purchase!

So dope!
54 magicians in what book - what can possibly go wrong?!
Really good material and really good thoughts, so much content in one book and it's underground which means - GOLD!
Underground always rules haha. Really happy you enjoy the project my man !
Great !
Loads of good stuff in this! And all for a good cause ! Great to see so many different styles / approaches / ideas all in one place. Thanks x
Your kind words means a lot Jack !
Interesting Read
A highly recommended and interesting book. Great articles and tricks.
Much love for the review Chiam ! Means a lot to hear that you enjoy the project :)