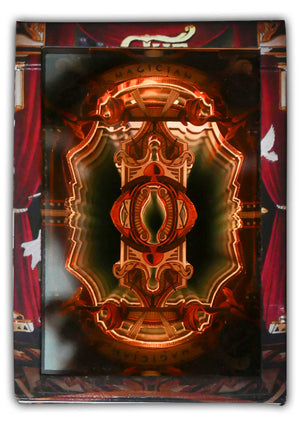 The Magicians Infinity Cut Deck
Ultra Rare
Limited run of : 7 decks (4 left)
Shipping from: USA
Made from : The Magicians Playing Cards
We have teamed up with 3 Decks Designs to bring you a limited run of 7 "Magicians Inifinity Cuts". 
These decks are made by intricately carving playing cards, stacking and layering them to create a 3D shadowbox, which is brought to life with an infinity mirror. A piece of art which is dazzling when turned on in darkness (don't look too long into it or you'll end up looking into your soul). 
Each order contains: 1 x "The Magicians" deck turned into a 3D shadowbox containing hand-carved playing cards with LEDs and mirrors. Comes with an accessible battery pack (on the back) and on/off switch. Each design is unique and 100% handmade.
Skyler Hoffman, who runs 3 Decks Designs, is an artist and collector from California. He has been intrigued with the possibilities of a deck of playing cards since he first discovered magic as a child, and he has been cooking professionally for almost just as long. This art form allows him to combine his knife skills with his love for playing cards. 


Underwhelmed
I've acquired other "carved playing card, stacked and layered decks".
I am underwhelmed with this "3D shadowbox". The infinity mirror is nice, but only when the LEDs are on. When the LEDs are off, you can't see any of the art work. In addition, I think the "stacking and layering" is below average. There really is only two layers (vs multiple layers in other decks I have and have seen). Without the LEDs turned on, this deck is a black box. In addition, the limited number is on a separate hand-written note vs a permanent part of the deck. Needless to say, for me, I am not impressed with this "Infinity Cut". ☹️
Hey David,
Biz here. I thought it was clear from the product pictures that when the lights are off you can't see anything. This is not similar to other cut decks as it's an original concept by 3 Decks Designs and the beauty of the deck can only be seen when the LED is turned on.
Do you like it when the LED is turned on? If so, then we delivered on what we promised. Which is an 'Infinity Deck' illusion created when the card case is on.
Also, having a numbered seal just for this deck is not possible, as that would imply printing personalized stickers for this project, which would rise the price of the deck beyond what anyone would pay for it.
I am sorry to hear that the product did not deliver on your expectation, but I hope you understand our point of view as well.
With respect,
Biz.