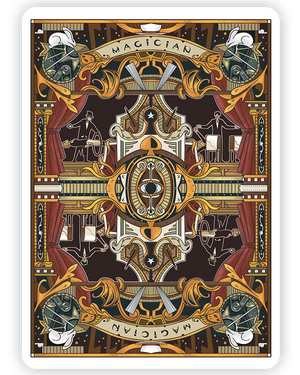 The Magicians Playing Cards, Puzzle, Card Game
Take a seat in our theater and experience the Golden Age of Magic. Welcome to The Magicians show!
Order Contains: 1 x Deck + 1 physical puzzle/game brochure + 20 digital tutorials (if you chose that option) 
Rulebook: Read the rulebook here !
Printed by: TWPCC
Run: 1999 ( every deck contains a numbered seal ! )
Published on: Kickstarter with the help of 486 backers
Illustrated by: Hendi Herdianto
Year: 2022
Inspired by the Golden Age of Magic, these playing cards pay homage to some of magic's biggest performers and also some of it's most innovative creators.
Each court card contains clues that hint at a magician themed movie. Court cards are also used to play "The Magicians" Card Game. 
Each number card features a magician, a prop used by magicians and an effect created or usually performed by that artist.
Card Game - The deck comes together with a set of instructions that teaches you how you can use the cards to battle your magician friends in an all out MAGIC WAR. This game has been created with the intent in mind to give magicians a game to play together, while also providing them with a tool they can use to create new effects as well as routines (by combining the cards and using them to focus your creativity).
The Embossed Tuck Case takes inspiration from a Victorian Era painting which showcases a devil playing cards with the magician on stage. On the inside of the tuck case you will find all the names of the backers who have helped make this project a reality.
The Tutorial bundle features 20 original sleighta and tricks by Biz (with 2 bonus downloads from Duduc Andrei and Jack Patton).
Pictures Credits: Chris Moyer (above) and Erik Bagy (below)





Awesome!
This is awesome! A beautiful deck of cards with a tremendous amount of thought and creativity built in. Worth every penny. Opened it from the bottom to preserve the seal ;) Thanks, Biz!
A Homage to the World of Magic!
For a guy who loves magic, with people still practicing it to this day - this deck is a MUST have for card enthusiasts and magic lovers. All of the artworks done for this deck is exceptional - the back design that calls back to stage magician with grand illusions, court cards that are callbacks to vintage magic posters, showcase magical props that commonly used in magic tricks, the deck have all of these covered. Definitely a deck you really need to have if you love magic!
Historic ! Great ! Beautiful !
This is going to be one of those decks that people are going to talk about for a long time. The only regret is that I only purchased 2 decks.
So much more than a deck of cards!
I feel so lucky that I happened to open Kickstarter last April to see The Magicians Playing Cards. After receiving them I was blown away. I had high hopes for these cards, & they turned out so much better than I could've imagined. These are so much more than just a deck of cards, & when you open them immediately, you realize you've opened a rabbit hole, & start to discover all of the amazing, & magic things these cards possess. All of this with the visuals, artwork, & premium card stock are what in my opinion makes this the best deck of cards I have ever owned. Thank you very much for this work of art!
✌️❤️😁