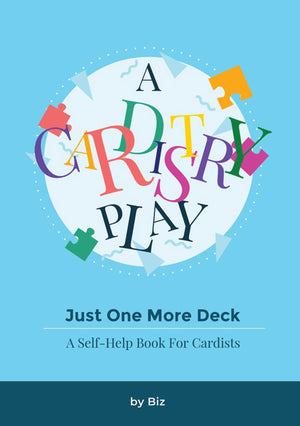 Just One More Deck / A Cardistry Play
I started writing this book back at the beginning of the year, on New Year's. I told myself that if I truly wanted to write it I would dedicate my New Year's Eve for it and write into the beginning of the year.
I have been modifying and updating the book for 2 months up until the creation of it led to me wanting to publish a book filled with wisdom from cardists all around the world. That book will soon be published and it would have not existed if not for this short story.
I do not yet know how I will use this story or if I will publish it together with the upcoming book "Timeistry", but I wanted to share it with you guys.
It's a playful short story written as a script that spits bits of wisdom through snippets of life shown through the eyes of a couple of young cardists attending "Cardistry High School".
The book came after I heard about quite a couple of cardists quitting during the Covid Pandemic and Isolation. I felt it would be the best moment to gather thoughtful words from inside my brain and put them down on paper through a fun story.
I hope this here makes you smile and giggle like a schoolgirl.
Just One More Deck / A Cardistry Play